Join us! THURSDAY, AUGUST 26, 6:30 P.M. ON ZOOM
for a Women's Equality Day Celebration.
We won the right to vote.  Let's make sure it counts!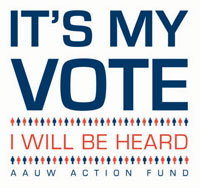 Because of the current public health situation and recommendations against indoor gatherings, we are going to play it safe and move our celebration to a virtual gathering on Zoom.
Here's the LINK: https://us02web.zoom.us/j/88131103651?pwd=RHAxTHc4Y25VeDQya0FUdXZkQU9VZz09
You will need to enter Passcode: 756149
So, it's BYOB and Zoom in next week on Thursday, August 26 — 6:30 PM
with a bit of socializing and catching up followed by a program on
Fair Maps Solutions to Gerrymandering.
Presenter:  State Senator Jeff Smith
Learn about the details of proposed legislation for non-partisan drawing of district maps based on new census data, how YOU can have input into the process, and how the courts might get involved.  Bring your questions!  Feel free to share this link and invite anyone interested in learning more about how our legislative districts are determined.

To phone in:  Find your local number: https://us02web.zoom.us/u/koO5IxvO
"She stood in the storm and when the wind did not blow her way, she adjusted her sails."  ~  —Elizabeth Edwards, attorney, author, and health care activist
Keep adjusting your sails and stay safe!